At Excel, we cherish the spirit of love and gratitude towards grandparents. On 22nd July, a joyous celebration of Grandparents Day took place on a bright Saturday morning. The event witnessed enthusiastic participation from numerous grandparents who made it a memorable and heartwarming occasion.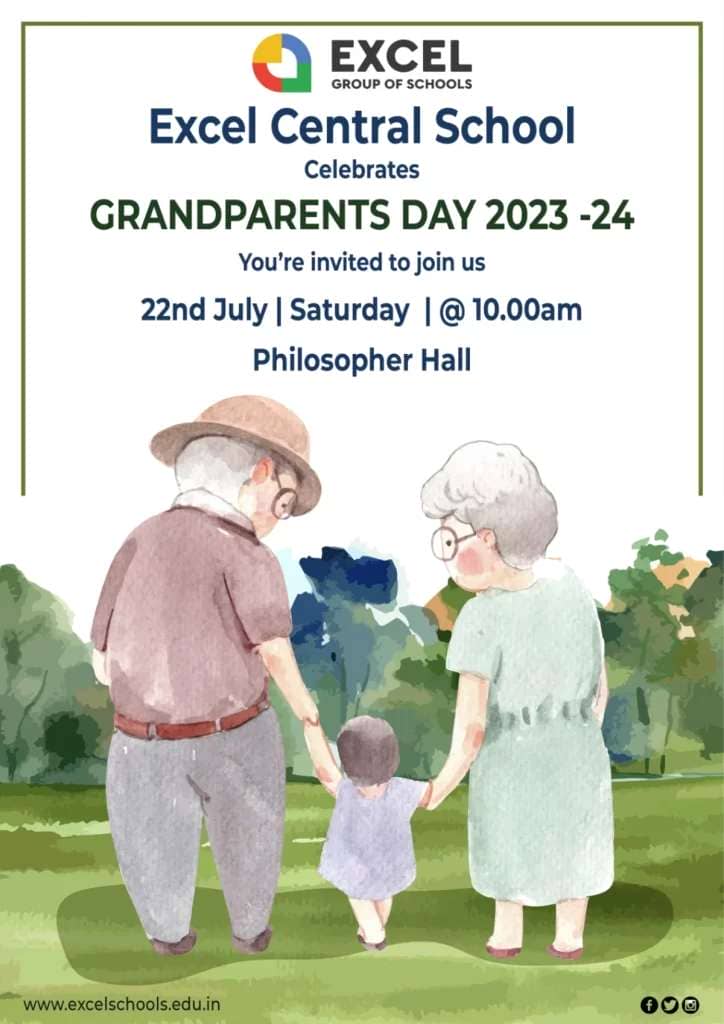 Event Highlights:
The program commenced at 10:45 AM with a warm welcome by the charming little host, Dallton P D, from Grade 2, who set the tone for the day's festivities. Our beloved Managing Director, Mrs. Brindha Sreekumar, delivered a heartfelt presidential address, emphasizing the invaluable role grandparents play in shaping our lives.
The school's Principal, Mr. Binu Kumar(ECS), and Mr. Padmadhas(EGS) graced the occasion with their inspirational address, underlining the significance of the intergenerational bond between grandparents and their grandchildren.
To honor our esteemed grandparents, felicitations were extended by Mr. Gopalan, Administrative Officer, and Mr. Mahadevan, Student Counselor, expressing gratitude for their unwavering support and guidance.
Cultural Extravaganza:
The cultural performances were a delightful sight to behold. Grade 1 students captured everyone's hearts with a soulful Tamil song, while the UKG students showcased their talent in a mesmerizing dance performance.
Students from Grades 2 and 3 engaged in a thought-provoking Tamil debate, reflecting their respect for grandparents. Adding to the charm, a UKG student delivered a heartwarming speech, expressing their love and admiration for their beloved grandparents.
The event became even more special with the soulful rendition of a beautiful song by Dhaksha's grandparent from grade 1, leaving everyone mesmerized. Bhadrinath's grandparent from UKG moved the audience with a heartfelt speech, sharing their profound experiences and wisdom.
Memorable Moments:
A delightful DJ arrangement added a touch of vibrancy to the event, creating a lively atmosphere that resonated with the joy of togetherness.
Dallton's grandparent from Grade 2 shared their cherished experiences, inspiring others to cherish their relationships with grandparents.
The teachers from the MI lab graced the occasion with an enchanting dance performance, showcasing their dedication to fostering a loving community.
The Grandparents Day celebration at Excel was an unforgettable experience filled with love, respect, and fond memories. It served as a beautiful reminder of the love and wisdom our grandparents bless us with. We extend our heartfelt gratitude to all the grandparents who participated in this event and made it truly special.
To know more about our inclusive and loving school community, visit our website or contact us today. Together, we create a nurturing environment for our students to thrive and learn from the wisdom of generations past.